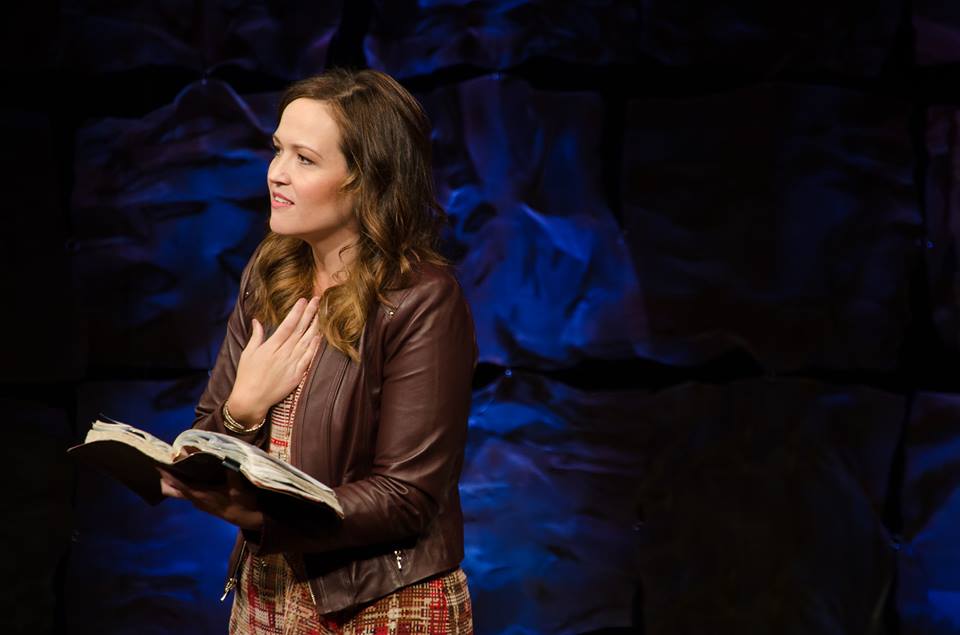 This is not a book about how to interpret the passages used to prevent women from seeking ordination. If you're looking for a theological / scriptural argument, the best free and online resource I can recommend is found here by Dr. William G. Witt. My friend, Sara, herself a seminarian, pointed me to it.
What Tara Beth Leach has written is an encouragement, and a wonderful guide. She is the Pastor of the Church of the Nazarene's flagship church, Pasadena Church of the Nazarene or PazNaz for short. In this book, she has given a church a gift–particularly those of us who have long ago accepted women's ordination and equality in leadership can be defended on solid exegetical grounds, but need our imaginations expanded for how to support women in ministry practically.
The amount of ground she covers is impressive, for a short book. Some topics include Calling, Imposter syndrome, Stereotypes, Opposition (from resistant men, women, and even other female ministers), Marriage, Family, and Singleness. The last part of the book lays out a vision for emboldening women for mission, reinvigorating our imagination, and keeping our focus on the commission God has given us to spread the Gospel of Jesus Christ. She makes use of personal biography, biblical observation, and memoirs and insights from a variety of women in ministry. Always, though, her love for Christ's Gospel shines through.
In fact, that Pastor Tara always keeps the Gospel forefront is what I admire about her most. I cannot tell you how many books I have read which lack any sort of passion for the Gospel being spread to nations, and making disciples. This is Tara Beth's main concern. In fact, that concern is why she is an advocate for women in ministry. Leach helps reorient us form our Western-centric conception of rights to a Gospel-centric focus on the Great Commission.
As a seminarian who is a man— and whose fiancée is entering seminary in the fall (even if she's does not feel called to a "senior pastoral" position)— I personally found the chapter entitled "The Pastor's husband" most helpful. But there is something in the book for every Christian who wonders how they can better support women in ministry, or how they might navigate as a woman in ministry.
I originally bought a Kindle edition of the book, and then asked IVP press to send my a physical review copy to share with another seminarian. That's how much I loved this book. (Fully disclosure: I wrote this honest review in exchange for a free review copy for IVP press).
Rather than take my word for it, I'd recommend you take a look at some of these selections from the book yourself.
On Imposter Syndrome
Jesus says [in John 14:8-14] whoever believes in me will also do the works that I do. We, then, as sons, and daughters of the King will participate in the mission of God in this world through miracles, teaching, preaching, prophesying, evangelizing, caring for the sick, radical acts of love, and laying down our lives for others. By believing in Jesus, by being so united with him through the Spirit, we will bear witness to the world about Jesus– the world will see Jesus in us through our work. This is all awesome and astonishing on so many levels, but here's what I want you to get: Just as we believe in Jesus, so Jesus believes in us. Dear sister, Jesus believes in you. Maybe it's time to pause for a moment, take a deep breath, and allow those words to soak into your heart Jesus believes in you; you are not an imposter. p. 39
On Men who take risks to embolden Women in ministry
Men who take risks do it while fully aware that something significant is at state–something much more significant than ridicule or fear. Men who take risks do it because they realize that the church is at stake, and until women are no longer sidelined, the church will continue to be hampered. Men who embolden women by taking risks recognize that the church has been limping around for far too long, and it's high time the status quo changes. p. 158
On the commission of the church being the main thing
"God has blessed the bride of Christ with a rainbow of colors and gifts, and the goal isn't for everyone to get a place on the rainbow; rather, the goal is for the colors to shine fully so the world might take notice and see the bright, beautiful, and glorious shining. the world will see the reflection of Christ as men and women labor together. When it's early a justice issue, a woman in the pulpit says, 'We've won.' But when it's a mission issue, a woman in the pulpit says, 'We've begun.' When it's only a justice issue, the finish line is when everyone has a chance to enter the pulpit…. When it's a mission issue, the finish line is Revelation 21; when Christ returns. and the new heaven and new earth will come together, and the path to get there is men and women serving alongside one another by participating in the redemption of all creation." pp. 131-132
On expanding our imagination for Women in ministry
I'll never forget sitting in the office of my senior pastor explaining to him how 'sorry I was' for being pregnant. With tears streaming down my face, I assured him over and over that 'nothing will change' and I 'promise I'll still be a good pastor."

My stunned and dumbfounded senior pastor got up from his desk, came around to where I was sitting, and gave me the biggest hug with the biggest smile on his face. 'There is nothing to be sad about, Tara Beth, this is a cause for celebration!' It wasn't that I wasn't happy to welcome a new child in the world, but I had zero imagination for a pastor who was a mom, let alone a preacher with a big ol' belly.

And leading up to my due date, I continued to preach twice a month, even with a massively growing belly. Of course, every time I was finished with a sermon and greeted folks on their way out, they didn't want to talk about my sermon but about my belly. One Sunday a gentleman said, 'I could really only focus on some of your sermon, but most of the time all I could think about was your giant belly, and if I would see your little guy kick." As my pregnancy progressed, my imagination for being a pastor and a mom dwindled to almost nothing. I continued to tell myself these stories:

You can't be effective with a giant belly.
Your belly is just a distraction.
When you have the baby, you can't be effective.
You can't be a good mom and a good pastor.
Your fellow pastors are disappointed in you for having a baby.
Once this baby comes, it's all people will want to talk about.
People are going to judge you for choosing to continue in ministry after the baby is born.
You're going to lose your passion for ministry as soon as the baby comes.
You'll definitely lose any cool factor you had, and you'll soon just be another soccer mom driving a minivan.

I repeated these often. But right around the time I was thirty-nine weeks pregnant, I picked up Nancy Beach's book Gifted to Lead. As I read her book, every page was covered in tears. Nancy expanded my imagination yet again for women in ministry. She encouraged me to see that pregnancy was not a nail in the coffin for women in ministry. She unfolded her journey as a mother and a teaching pastor at one of the world's largest churches. And over time I have slowly embraced an imagination for women in ministry that includes a baby on one hip. P. 154
I highly recommend Tara Beth Leach's book Emboldened: A Vision for Empowering Women in Ministry (IVP Press, 2017) to you.
Blogger's note: this honest review was provided in exchange for a review copy given by IVP Press.